If someone recommends you follow just one person or read just one blog, then they're flat out wrong. If someone told me that my blog is the only one they read to improve their link building efforts, I'd immediately write up a quick list of people they should follow & blogs to read.
This is that list. These are the people I learn from on a daily basis and keep me in check on what's happening in the world of link building.
Why I created this: I get asked two to three times a week about which link builders to follow in the industry & who I've learned from over the years, so being able to answer them with a single URL is going to save me a ton of time. 
Note: This list is in no particular order.
Wil, the founder of SEER Interactive, is a link building stud. Each time he posts a new video, speaks at a conference, or writes up a post, I can help but smile. Wil has taught me a lot over the past couple years and I owe him a lot for it.
Ross lives, eats, and breathes links. He's introduced a few new ideas that really got me thinking and lead me to a few discoveries of my own. Hopefully he can spark a few epiphanies that can help streamline your link building efforts too. You can check out my interview of Ross here.
Whether he's writing a new post on Search Engine Watch or introducing a new tool to the Citation Labs toolset, Garrett is always amazing me when it comes to how he builds links.
Hugo, a fellow Tampa SEO (represent!), likes to challenge accepted ideas and has helped me think differently, and when it comes to link building, being different is a huge plus.
There's a group of guys I wish who blogged more. Justin is one of them. Despite this, he's more than worth a follow on Twitter. You can check out my interview with him here.
Jason Acidre's blog, Kaiserthesage, is definitely in my top 3 favorite reads. He also occasionally writes for a few other blogs, so I suggest you get updates on his posts straight from the source.
Luckily for us, Debra has started to post on her blog, the Link Spiel, a lot more as of late. Debra has been in the game for quite a while, so if there's any group who can speak from experience, she's a part of it.
Owner of Link Fish Media, Julie Joyce has built well over 10,000 links over the years (according to this post), so once again, this is another experienced link builder you need to learn from.
Although Don doesn't write on his blog often, his tweets have introduced me to quite a few link building gems I would have missed otherwise, and I usually pride myself in finding the best posts before anyone else (or at least I like to think so).
When it comes to building links through social channels, Mike, aka iPullrank, is your go-to guy. If you can get your hands on a ticket to see him speak, do yourself a favor and do so (haven't seen him in person, but I've seen the conference videos & slide decks and been blown away). You can check out my interview of Mike here.
John, a consultant for Distilled, has really jumped onto the scene of late. If there's anyone that will show you how it's done when it comes to building links through content marketing, it's John.
Another veteran link builder, Eric is the president of Stone Temple Consulting. He also wrote the Professional Guide to Link Building, one of the most extensive resources on the Web.
Mike is an online marketing manager at Koozai, and he's one of the more creative guys in the industry. He's written a book titled "Free Stuff Everyday", in which he goes through ways to give away free stuff to get the things you want (of course, links being one of them). Check out my interview of him here.
Nick is an outside the box thinker. I guarantee that the stuff he writes on his blog you will not find anywhere else. You can check out my interview of him here.

Paddy, like John, is a consultant for Distilled, and I've been really liking what I've been seeing out of him lately. Make sure you check out his blog too.

Dan, the director of Dejan SEO, an Australian SEO company, really knows his stuff. He's been in the industry for over 10 years, and he's worked with 100s of clients since then.
Rand, famous for being the CEO of SEOmoz, definitely has some insight to share when it comes to building links. Although he hasn't consulted in recent years, he's the main writer for the SEOmoz blog, a blog that has attracted thousands upon thousands of links over the years. You can check out my interview of Rand here.
James is one of the link builders in the industry that doesn't get nearly as much love as he deserves. He runs a content-based link building agency, Skyrocket SEO, so he knows what it takes to attract links to content. He's also a guest blogging mastermind.
Richard is the founder of SEOgadget, a large UK SEO company. Richard has written some great stuff on the company's blog, including a few stellar posts on using link data in excel.
Shaun, the marketing directory at Hobo Web, is one of the most well regarded link builders in the UK. He likes to dive head first into some interesting topics (most recently directories) and is always worth paying attention to.
Not only did he write the Clockwork Pirate (which alone should have him on this list), he's also the marketing director at SiteVisibility and runs a highly successful Internet Marketing podcast on iTunes.
Another link builder who doesn't get enough love, Ethan works with Wil over at SEER Interactive. I think it's time he finally gets credit for some of the great work he's been doing both at SEER and on their blog.
Ian's Twitter bio sums him up the best: "Brand safe by day. Not so much at night." He consults with a few big clients, but like me, also has a blog & a few sites of his own to toy around with.
Kris is a grey hat link builder who, frankly, I would not want to go up against in the SERPs. Like me, he hasn't been in the industry as long as some of the veterans on this list, but by no means should you hold that against him.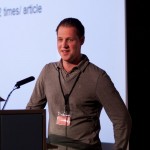 Wiep is a link builder from the Netherlands who co-founded Linkbuilding.nl, a dutch link building agency. He tweets in both English & Dutch, and when he does write either for his own blog or someone else's, it's always worth tuning in to.
Tom, yet another guy from Distilled (he's the VP of operations at the NY branch), was one of the first guys to really teach me how important hustle is. I've seen quite a few of his talks at conferences, and I can't wait to see him speak in person.
Will, Tom's brother, is just as good (better?) as Tom when it come to building links. The biggest reason why I added him to the list is because at Distilled he's consulted with quite a few large corporate companies.
It would be hard to make a list of link builders and not include Aaron, the founder of SEO Book, both an SEO software & training company. He's one of the brightest minds in the industry, and he always has been.
Dixon is the marketing directory at Majestic SEO, the largest backlink data source there is, and a founder director at Receptional, a web marketing agency, so yeah, he knows what he's doing.
Chris, an internet marketing consultant, is the creator of Link Research Tools, a toolset that's started to become a lot more popular of late.

Honorable Mentions
Since Linkbuildr is a company rather than a person (even though Ryan Clark does all the tweeting), I didn't want to include it in the group of people above, but regardless, you should definitely be following this one.
Even though Eric & Jim are awesome link builders, they don't tweet very often (Jim hasn't at all in 2012). Hopefully we get lucky & they start tweeting more, but until then, I'm not going to list them in that list of 30.
Alright, I had to include myself. Building links is what I love to do. I could tell you I have a link building blog, but you're reading it as we speak.

Up & Comers
Peter has written a bunch of great posts over on his blog that haven't gotten the attention they deserve. Depending on how often he writes and who's lucky enough to read his stuff, you might see him gain a bit more popular in the next year or so.
Michael was one of my first readers on my blog, and unfortunately very few of you know who he is. Since his first few posts, his content has gotten a lot better, and like Peter, if he writes more, he has a chance at being a little more well known.
Who did I miss?
Who are your favorite link builders on Twitter? Who's an up & comer you see making some noise over the next few years? Make sure you let me know in the comments!
I also noticed a lot of you aren't subscribed to my RSS, so if you aren't, make sure you do so now.