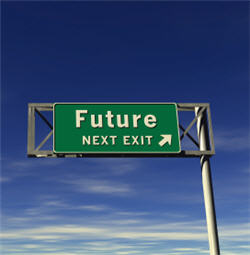 A day doesn't go by without reading or hearing about the future of search. Almost every week people ask me about what the future might look like for link building. I had a few predictions I've wanted to bring up, and now that this article has the industry talking (depending on whether you think it's PR buzz or not), I think it's finally time to address what the future of link building might look like.
For those who have been doing SEO longer than I have, you can vouch for me when I say that SEO is one of the most rapidly changing industries out there. What was a reality a year ago might not even be relevant today. So, with that said, link building is starting to make a big change. 
The End Goal
Look at the modern day SERPs, and compare them to the ones we saw when the term "link building" was first coined. The practice of "link building" was SEO back then. Why? Because ranking first in Google meant everything. There were no paid ads or fancy markup like images, video, reviews, etc to distract the user from the first result. If you ranked 1st, you got loads of clicks. This meant that ranking first was really the one all end all KPI for your SEO efforts. It still is for a lot of marketers, but this is slowly changing.
A couple days ago I read an article (I'm a little angry I can't find it right now) about a website ranking 1st for one of its most important terms. Despite this, their CTR was terrible – it was roughly 2-3%. Why? Because of the amount of paid ads for that query. This immediately caught my eye because this idea of low CTRs in conjunction with high rankings is starting to tell us that rankings are slowly becoming less important.
This is why everyone's talking about the nomenclature of what we do. "SEO" just isn't going to cut it in the future. Ranking 1st can't be our sole responsibility, because it doesn't have the kinds of returns it used to. That's why we're becoming inbound marketers; other channels need to be utilized to get the kind of traffic & sales we once almost solely depended on organic search for.
No, this isn't the picture for everyone, but it is becoming real for more & more marketers. Think of this change like the curve in the graph to the right.
The curve will never touch zero, just like this won't ever be a reality for everyone (maybe even no where close), but as time goes on, the rate at which this becomes a reality for marketers increases. No, it's not as extreme as the curve demonstrated, but hopefully you get the idea.
With that said, we're going to be building links in an entirely different way, and we'll be doing it for an entirely different reason. "Link building" first meant building links for SEO, but the future of this practice will start to encompass all links, whether for search value or not. For example, a link in an email newsletter (stealth link building as Eric Ward calls it) will be one of the types we'll pursue in the future. Essentially, link building will start to increasingly become closer to what other forms of marketing are.
Here's some evidence to back me up. In the WSJ post I mentioned at the top, they mention right out the shoot, "Google's search engine will begin spitting out more than a list of blue Web links". Now, we've already seen this with the markup & paid ads I talked about above, but the idea of entities and Q&A type results are said to be growing in importance. Both have been talked about & introduced before, but in my opinion, the dormant period after these types of introductions seems to be coming to an end. Thus, more distractions for the user, and less clicks on traditional SERP results, causing us to turn to different avenues for the traffic we need to sustain our businesses.
Infographics
Although unrelated, I want to address the future of infographics, a widely praised linkbait strategy that's been around for the last 2-3 years.
Infographics are dying, and finally I have some evidence to back me up. If you haven't noticed, Visual.ly is a startup making a ton of noise. What they do is infographic creation. In a nutshell, it's a super simple tool to create awesome infographics in minutes. This severely lowers the barrier of business owners to create infographics, and when this happens, the value of infographics starts to drop significantly.
But don't be foolish. The idea behind infographics will never go away. Data visualization has and always will be an extremely effective content strategy, it's just this form is starting to meet its' demise. It will never completely go away, but it will slowly (and now more rapidly with automation tools like Visual.ly) lose a lot of its value.
Before I move on, realize this goes for anything. Once directory submission software came out, the value of directories dropped. Once tools like widgetbox.com made it easy to create widgets, they became significantly less cool. That's just how things are. This barrier of entry for certain link building strategies will never go away, no matter how much we evolve.
At the same time, use this to your advantage. Ditch strategies that can be automated, and spend time on things that other people aren't doing that can't be automated.
So what does this mean right now?
Frankly, not a whole lot. We still see sites ranking and bringing in $4 million worth of traffic per month. Ranking 1st is still what I'm paid to do, and the same might go for you. What it does mean, however, is that this change will be coming in the next few years, and the first people who get on board will be the winners in the long term. You're right, we white hats talk about the long term probably a little too much, but with updates like these, a lot of these warnings & predictions we're making are showing signs of finally coming true.
I'm curious. Are my predictions a load of crap? I'd love to hear your thoughts.