You know what makes me sick? Hearing about a "link builder" who sends out hundreds of generic link request emails that get less than a 5% success rate. Normally this wouldn't make me cringe, but he outsources all of the link building to a few virtual assistants willing to work for $2 an hour, who send out an email every three minutes. <sarcasm> You can guess the emails were just overflowing with quality. </sarcasm> Granted this strategy was profitable in his situation, it's just not the way SEOs should attack link building.
12 months ago I was an average link builder. I spotted out a few guys I wanted to get a link from, did what I could, and when I didn't get a response or an immediate link, I moved on. Even though I ended up getting the success I wanted, I got lucky. REALLY lucky. I was link building for a client in a niche where few link building opportunities existed. I know for a fact some of you are struggling in niches like this. If this is you, I've got a very important message for you.
Make every link prospect count! (

tweet this

)
Here's what I mean. You can be average like I was, spending 5 or 10 minutes doing what you can to find a broken link or two, get an email address, then shoot over an email at whatever the time it was convenient for you.
Or…
You could go out of your way to make sure you know everything about this prospect, their website, and how to contact them. You'd take the time to personalize the email based on that information. In the end, you'd be spending less time on less prospects but you'll be getting more links. How so? Through a better success rate, or in this case, a higher conversion rate.
That's why I'm going to take you through an entire link building campaign, from prospecting and tracking to planning and executing. The best part: I won't talk about using any fancy paid tools. Granted, most of them will save you loads of time (I'll talk about a few of these in future posts), but not every one has access to them. So let's get started!
1. Prospecting
In most link prospecting posts you read about going for bulk, but in this case we're going for quality. Because of this, high quality prospecting will be a much quicker process. A good number of prospects for this campaign is 50. Go find 50 relevant blogs, static websites, or news sites in your niche that you want a link from.
I preach hustle, so when I say 50 prospects, I mean we're going to do everything in our power to get links from each of them. In reality, you'll never get a link from every one of them, but having that mindset reaps greater results.
You probably have a pretty good idea of the top 50 sites you want links from, but if you don't, I'll run you through a few ways to find them:
Followerwonk – I'm not going to reinvent the wheel, so here's an awesome post from John Doherty on link prospecting with Followerwonk & other twitter tools.
"Top X" posts – Look for "top 10 blogs" or "top 25 blogs" posts in your niche. Go to these blogs, check out who they're linking to (both in their blogroll and in their posts), and add these to your list.
SEOquake – This is a toolbar you can use to find statistics on search results. You can export these results to a CSV. Check out Jason Acidre's post on link prospecting with SEOquake.
Mozbar for Firefox – Just like SEOquake, you can export results with link data straight from the SERPs. The only catch is that the Mozbar only allows this on Firefox.
Technorati – This is a great way to find authoritative blogs in your niche. For example, here's the list of top blogs about pets.
I'd point out a few other link prospecting techniques like using the scraper chrome extension or using a few paid tools like Buzzstream or Ontolo, but as I said before, we're just trying to find a solid 50 or so prospects. Once you've made a list of 100-150 or so using the techniques above, narrow it down by retrieving SEOmoz's linkscape data into excel for each of the prospects. If you're looking to get fresh links on new content, sort by domain authority and then aim for relevancy. If you're looking to get a link from a static page, sort those pages by page authority. This is critical!
2. Tracking
Now that you have the prospects you want links from, make sure you have them all in an excel spreadsheet if you haven't already done so while prospecting. The biggest mistake I know I've made is not keeping a record of each of the prospects I've contacted. This leads to less hustle, because you might not remember to email them a second time if they don't respond the first time around. Being able to keep track of how you're doing is also a key to motivation (who wants to see a spreadsheet about prospects you never ended up getting links from?).
In the end, if you aren't organized in tracking your efforts, you won't have near the success as those who properly track. It's as simple as that.
3. Planning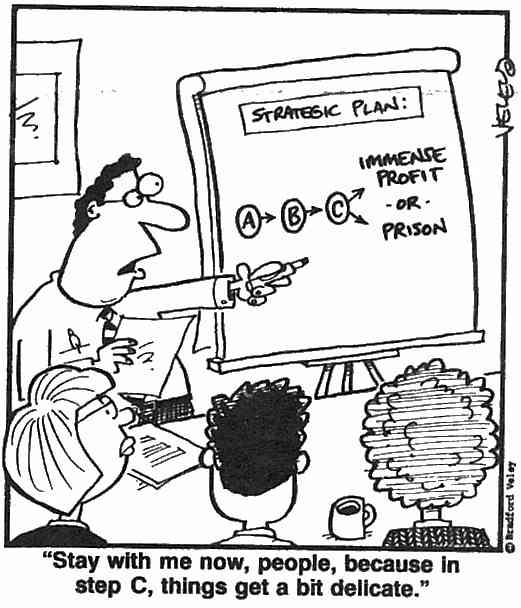 As I said, you're going to want to get to know the prospects as much as possible. But whom are we trying to get to know? If it's a blog, obviously it's the main bloggers. If it's a news site, it's going to be the journalists and reporters. If it's a static website, it's going to be the webmasters (this can be difficult to find out, but I've got a trick for this below).
Here's a great trick to find out who's the one that's going to be giving you your link. Download Xenu's link sleuth and find broken links on their site. Find a couple, let them know in an email, and chances are the person who answers your email & says thanks is the same one who's going to eventually be giving you your link (see how cocky I can be sometimes?). I wouldn't suggest this for large scale news sites, as these don't go back and update their content really at all. I'll talk more about Xenu's link sleuth and timing emails a little further down this list.
Still with me? Now it's the time to figure out what type of link you want from each of these sites. Are you trying to get a guest post? A link from their links page? Do you think your content should be mentioned in a blog post? How about trying to have them embed an infographic? Or maybe even a video? You have to figure out these things before jumping in to the outreach process. It's easy to just say "I want a link from this site, and I want it now!" but being demanding never helps in link building. Here are a few types of links you can try and pursue:
guest post – A solid number of blogs you're trying to get a link from will most likely allow guest posts. Although the post will cost you usually an hour or two of your time, you can probably get multiple links as well as traffic from those links. Make sure you don't make these mistakes.
links page or blogroll – Pretty self explanatory. The link won't pass as much value because it's surrounded by a lot of other outbound links, but nonetheless a link is a link. If it's a sitewide, this can obviously have a bigger impact (although how much of an impact is up for debate).
embedded content – Whether it's an infographic, video, or even an image, you'll get to choose the anchor text (that's if your content is worth embedding). For example, photography blogs should take advantage of imbedded images as a blog posts.
news related – for example, if you're company has a recent press release that's relevant to that niche, contacting a journalist or blogger to mention it is a great idea if it's newsworthy. They might end up writing about your press release, and in doing so, they'll mention and link to it.
broken link replacement – ahhh. One of my favorites. Find a post on their website with a broken link, find the content via the wayback machine, create the same content (obviously don't copyright), and ask the webmaster to replace the link with a link to your content.
Citation of a source (that backs up their argument) – If you're in a niche where debate is a daily occurrence, write or create a study about something that backs up the writer's argument. Mention it to them & ask them to link to it (make it seem as beneficial to them as possible). Depending on the situation, either ask for an entire post around the subject or ask for them to update an old post on that subject with a link to your source.
Note: These aren't the only links. These are just ones that are easy to classify. In reality, a lot of links you get during outreach aren't the ones I mentioned above, because most of them are unique in their own way.
4. Executing
Now that you've prospected, set up tracking, and planned, it's time to actually go out and get those links. Make sure you have each of the contacts email or twitter handle, because these are the most popular & effective ways to get in touch.
Because you're conducting a CRO approved link building campaign, you're going to be personalizing each email as much as possible. To help, add Rapportive for Gmail so you can see what they've been posting to their social media accounts. Also, in order to get your emails actually opened (link builders know this is one of the toughest issues we face), use Boomerang for Gmail to schedule emails to get in their inboxes first thing in the morning. This gives your emails a better chance of being opened!
Make sure you understand one thing before going through this entire process: Putting links last can be the most effective strategy you can use. What I mean by this is keep helping out and adding value so when you finally ask for a link (and if you have a good reason), then you are much more likely to get it. This doesn't hold true for all link building, such as broken link building (I find that getting straight to the point for this strategy works best), but it will hold true in things like media news mentions and imbedded content.
Now it's time to segment prospects based on what type of links you're trying to get.
Guest Post
If you're going after a guest post, look at what they've recently posted about and see what resonated with their audience. This is so obvious, yet sometimes I'm guilty of just blindly throwing an email at a blogger without seeing what has worked best with their audience. If they have a "what's popular" section, this will take you literally 30 seconds.
Links page or blogroll
This one can be tough if you jump right into emailing the webmaster, so I suggest you start building up a relationship in one way or another before hand to get the best results. If you really want the link, you'll have to offer value in return. I do this by checking for broken links, correcting grammar, checking spelling, helping curate the content, etc. The more creative, the better.
For example, I was in a niche where there was a very authoritative resource list written back in 2009. I went through it with the blogger to update it with new resources & take out the old, broken ones, and in the middle I mentioned a few of my client's resources to be added. It worked :).
Embedded content
If the piece of content you're trying to get imbedded is so informational that it can be a post itself (i.e. an infographic or a "whiteboard friday" type video), then you'll have a much higher success rate. Also, if the content isn't outstanding, don't waste your time. If you're reaching out to the upper echelon of your niche, the content better be so good that you'll get a "Wow" from every reader.
News related
This is tough, but doable. If your website had a recent press release that means something to the industry you're in, contact journalists from a news site (or even a blogger) to ask if they'd like your input on the recent news. Make sure you preach that this is more than newsworthy, and to get direct information right from the source, you're their go to guy (or gal). If this resonates, make sure you get a link to the press release. If you can, try and get a second to your site's home page, because when news sites mention a brand, they'll usually link directly to them.
Broken link replacement
Although this should classify as a strategy rather than a type of link, there are cases where it's not on a links page or blogroll. For example, year old blog posts that have a few broken links are worth contacting the webmaster and notifying them. This is especially effective if the blogger knows SEO, because you can remind them of Panda and how they should be curating their old content. I do not recommend this for trying to get a link from a large news site, because as I said they don't have the time to go in and edit old content because they have so much of it. It's just not worthwhile for them.
You need the right tools for the job, so I recommend Xenu or Screaming Frog for checking links on a domain, as well as Check My Links (chrome) and Linkchecker (firefox) for checking individual pages.
Hustling
Sometimes you aren't going to get a link the first time around. If you've done outreach in the past, then you know this happens quite a lot. Most of the time, though, you can overcome this with hustle, hustle, and more hustle. If you get an email back saying they won't link to you, make sure you get a reason why. I'll go into that below.



Here are the most common reasons for not getting a link:
You didn't get a response
You couldn't find their contact info
Your content isn't worth linking to
Your site's design sucks (they might not say it, but it's sometimes the reason)
The first reason can be overcome with hustle. The first thing you can do is send another email. You can also find the person on twitter, linkedin, or facebook. From there, if you still can get in touch, try picking up the phone. If you can't find their phone number, try calling the generic phone number on the site's contact us page. You might get lucky and get told the phone number of the person you're looking for. Now, if you're really a hustler, pull out pen and paper (dare I say it!) and send an actual letter to any address you can find. You can use whois if you can't find one on a contact us page.
The second reason can, once again, be overcome with hustle with some of the above mentioned information. You can also use some of the awesome tools Justin Briggs mentions in his
link building tools
post.
Buzzstream
's bookmarklet is also great for this – with one click, you can get the contact information for almost any site. The only catch is that this is a paid tool, and I said I'd only be talking about free tools, but I thought I'd mention it anyways.
The third reason takes a little more determination. If the person tells you they won't link because it's just not worth linking to, then ask why. If they think content is boring, it's difficult to read, or anything else about the content, then modify your content to their liking! They're putting a link on a platter saying "here's a link, and here's what you have to do to get it." Make the changes to the content, email them again, and ask if it's now worthy of being linked to. Guess what? This actually works.
If your site's design sucks, this is where not even hustle will get you a link. The best way to describe what to do is by sharing Justin Briggs' awesome flow chart below.
If you can't overcome the reasons why you can't get the link, then find out what else you can get, like asking if they could tweet about a recent post you published instead. At this point, it's up to you to figure out what else you can get.
In the end, the block "can I overcome reasons?" defines what hustle is. If you're willing to overcome them, then you'll get the link, but if you're lazy, then you won't.
Conclusion
Maybe sending out 100 link requests in an hour isn't the best use of your time & resources. Maybe you should start focusing on a few prospects instead of the entire pool. Spend an extra hour going above and beyond for even just one person, because a relationship isn't a one time deal. You'll add another name to that "little black book" which can be used over, and over, and over again.
The last thing I want to leave you with is that the good and the great link builders are separated by hustle.
The best link builders are the ones that make every link prospect count (
tweet this
).